According to Regulation No. 24 of the Rector  the Jagiellonian University, Physical Education Classes at Collegium Medicum are suspended until further notice.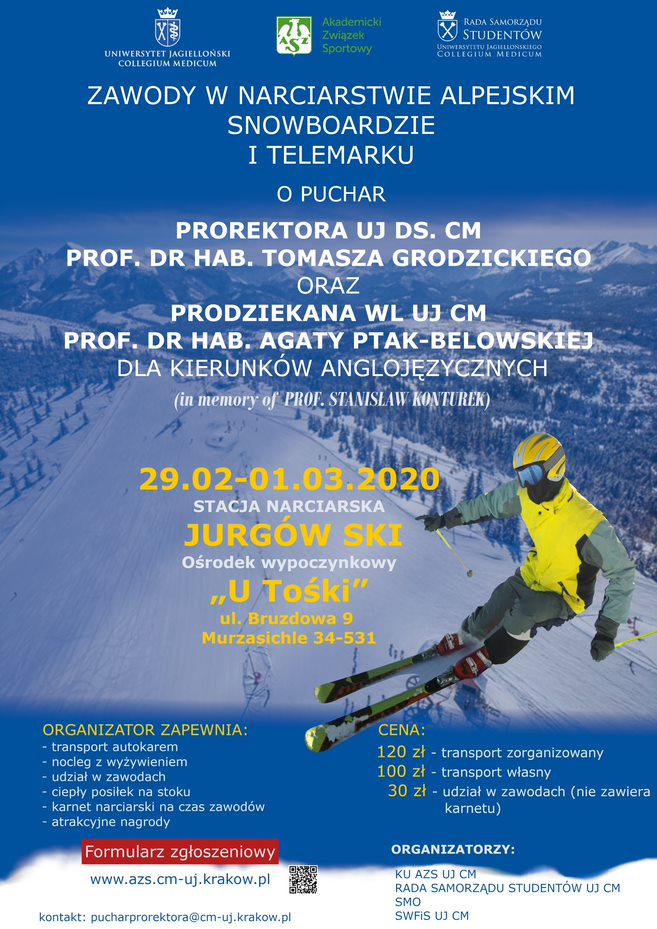 RULES OF THE PHYSICAL EDUCATION DEPARTMENT
OF JAGIELLONIAN UNIVERSITY MEDICAL COLLEGE
Physical education classes are obligatory.
Students holding medical exemptions are obliged to participate in therapeutic gymnastics classes instead. All doubts as to who can take part in such classes are dealt and settled by the PE department coordinator. Therapeutic gymnastics classes are held in different time than regular PE classes but in the same place.
To complete the course a student has to attend 12 out of 15 classes in each semester. Every absence has to be made up. Only one absence can be made up in a single day. The classes can be made up only by activities organized and run by PE department of Jagiellonian University Medical College. Any other forms of activity outside the Medical College will not justify absences and will not be considered for receiving the final credit.
Change of training group is only possible in special cases after permission given by the teacher and should be settled with the coordinator up to the first three weeks of each semester.
Dress codes for PE classes:
GYM – sports track, t-shirt, shorts, clean indoor non-marking shoes
SWIMMING POOL – swimsuit, cap, flip flops, towel, soap.
There is  a possibility of receiving a PE credit by being a member of the AZS sports club (Jagiellonian University academic sports association) and representing the University at different competitions. Students who are willing to join one of the sections of the organization and will regularly attend its trainings will receive PE credit and be exempted from obligatory classes.
PE (physical education) is part of DDS and MD curriculum. Student who will not be present on the required  number of hours (12 during one semester and 24 during whole academic year) will not receive the course credit and will be charged with the costs of repeating PE course in the amount of about 480 PLN per one year. The failed course will have to be made up in the subsequent semester.
For participating in sports cups under the patronage of our University authorities (swimming, basketball, skiing, tennis, volleyball and "run 5 for a good start") the student gets TWO PRESENCES! Top 3 places credit for one semester of physical education. You can also obtain credit for  PE classes for completing the Cracovia Marathon.
SPORT SECTIONS
KU AZS UJ COLLEGIUM MEDICUM      I,II semester 2019/2020
Women's volleyball  tuesday, thursday
tuesday      19.00 – 20.30         Badurskiego 19   sector A, B
thursday     19.00 – 20.30         Badurskiego 19  sector A, B               
Men's volleyball tuesday, thursday
tuesday     20.30 – 22.00        Badurskiego 19 sector A, B
thursday    20.30 – 22.00        Badurskiego 19 sector A, B         
Women's basketball – monday, wednesday
monday       19.00 – 20.30        Badurskiego 19, sector A, B
wendesday  19.00 – 20.30        Badurskiego 19  sector A, B
Men's basketball – monday, wednesday
monday        20.30 – 22.00     Badurskiego 19, sector A, B
wednesday   20.30 – 22.00     Badurskiego 19    sector A, B
track and field –  monday
monday  20.00 – 21.30          AWF  Śniadeckich 12
swimming – monday, wednesday
monday          18.15 – 19.00   swimming pool  UEK  Rakowicka 27
wednesday     20.00 – 20.45  swimming pool Wisła Sport Club ul. Reymonta 22
Football– thursday
thursday           21.00 – 22.30    Rakowicka 27 gym UEK
Women's Futsal  –tuesday  
tuesday    19.00 – 20.30    Komandosów 29       
Tennis
thursday  19.30 – 22.30    Fame Sport Club  Dekerta 21
Skiing
tuesday   20.00 – 21.30      Badurskiego 19     aerobics gym    (15 weeks of activities)
practies at winter camps
contact with  mgr Łukasz Bylica  694-101-707
Climbing i sailing section
Contact : Grzegorz Ginter 506 114 498